Hey, everyone! Cheese, it's already the end of July — I can hardly believe it. Time is flying by way too fast even when most of us are stuck at home during this time, eh? Anyway, I hope all of you are doing well and are making the most out of all the time we have to spend indoors. In my side of the world, July 31 is a holiday, so I've spent the whole day catching up with the books that I'm reading, shoot my books, watched anime, and now I'm writing this blog post.
The month of August is a busy month for me because there are so many celebrations. First, our anniversary is coming up, then my mom's birthday, and there are also a lot of holidays coming up here in the Philippines. Also, it's Buwan ng Wika which basically means that this whole month is allotted to celebrate our mother tongue. With that, Kate of @yourtitakate, Gerald of @geraldthebookworm, Julienne of @juliennereads, Alexisse of @alexontheblk, and Kat of @herbookishside came up with the perfect way for Filipino readers to celebrate Buwan ng Wika: a readathon called Wikathon. The main objective of this readathon is for Filipinos around the world to read as much books written by Filipino authors as possible. There are also a couple of prompts available! I'm a "mood reader," so I'm not sure if I can tick some prompts off the list but I'll try. My plan is to just read three books by Filipino authors that have been sitting on my shelf for quite a while now, but if you guys are curious of the prompts, here they are: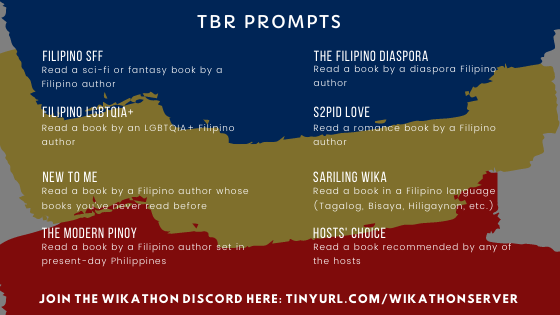 You can also check the Wikathon official Twitter and Instagram account.
Anyway, I mentioned that I will be reading only three books. That's because I am also joining the Tome Topple readathon hosted by Sam of @thoughtsontomes which I will be sharing in another blog post, so watch out for that as well. So heading on to my Wikathon TBR:
Para Kay B by Ricky Lee
The Girl Between Two Worlds by K.M. Levis
Walong Diwata Ng Pagkahulog by Edgar Samar
I've already read Para kay B so many years ago and would love to refresh my mind of the story because it is absolutely one of my favorite local books. On the other hand, I am really excited to finally read The Girl Between Two Worlds because it's been on my TBR for almost two years now and Walong Diwata Ng Pagkahulog because it was recommended to me by one of the managers in the company that I work for.
What about you? What's your TBR for the month of August?